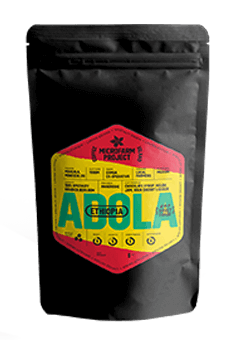 (new product)
Arabica Varietal: Heirloom
Name: Adola
Country: Ethiopia
Attitude: 1,900 m.a.s.l.
Process: Anaerobic
Roasting: Medium
Cupping Notes: Chocolate syrup, Melon jam, Sour Cherry Liqueur
Acidity: 7
Sweetness: 7
Body: 6
Aftertaste: 7

The Story
Our team in their coffee exploring trip to Ethiopia, visited the washing station called Adola in the Guji region surrounded by green and lush forest and huge mountains. There, they were welcomed by the hosts waiting to start a cupping session. In the meantime they also talked about how the local small farmers are collecting only the red ripe cherries and they let them ferment in polybags for 120 hours while laying on the raised beds and getting dry in a slow manner. Our team got ecstatic with the excquisite taste of this unique and rare coffee and they already knew they had found the next coffee that would complete our latest Single Estate selection.