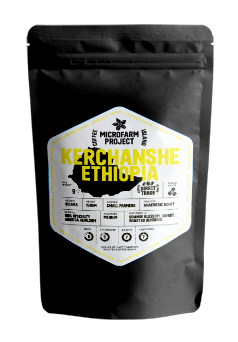 (new product)
Arabica Varietal: Heirloom
Location/Name: Kerchanshe
Country: Ethiopia
Attitude: 1,900 m.a.s.l.
Process: Anaerobic Honey
Roasting: Medium
Cupping Notes: Orange Blossom, Cherry, roasted Almonds
Acidity: 7
Sweetness: 7
Body: 5
Aftertaste: 5

The Story
This coffee is collected from small farmers and milled by Kerchanshe washing station in Sidama region of Ethiopia. A few words about the process: The beans go through the honey process and are then put in plastic barrels where all water and oxygen is removed. The barrels are sealed and the beans are left to ferment (NO YEAST is added) for around 36 hours (*anaerobic fermentation process). The plastic barrels expand to a level where the growers can tell that the process is complete.
Once removed, the coffee is pulped and taken to dry on raised beds. The beans are then turned more frequently to dry to desired level.
*Anaerobic fermentation is a low-temp, controlled process that breaks down sugars & elevates fruit acids for a greater perceived sweetness, yielding a silky mouthfeel with bouquets of floral aromatics & hand-picked berry sweetness.