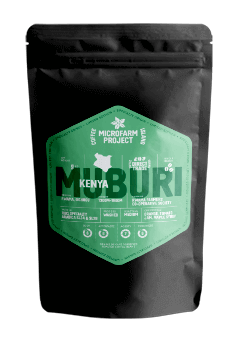 (new product)
Arabica Varietal: SL34 & SL28
Name: Muburi
Country: Kenya
Attitude: 1,300 - 1,900 m.a.s.l.
Process: Washed
Roasting: Medium
Cupping Notes: Orange, Tomato jam, Maple Syrup
Acidity: 7
Sweetness: 6
Body: 6
Aftertaste: 6

The Story
Muburi factory is located in the village of Rwama, in the Gichugu division in Kirinyaga County. The nearest big town is Kianyaga (approximately 5km away), which is itself a couple of hours drive from the capital Nairobi.
The annual rainfall in the area is approximately 1,900 mm, divided in two rainy seasons. The soil type is deep red volcanic, rich in organic matter. Muburi has a total of 1,080 active members and is a part of the Rwama Cooperative Society. After the timely and selective hand picking, the cherries are delivered to the wet mill the same day they are picked. Cherry sorting is carried out at the wet mill prior to the pulping. The red ripe cheries are separated from underipes, overipes and foreign matter. Processing utilizes clean water (wet processing), that is recirculated before disposal into seepage pits. Sun drying on raised tables is done before delivery of the coffee to the dry mill for secondary processing.