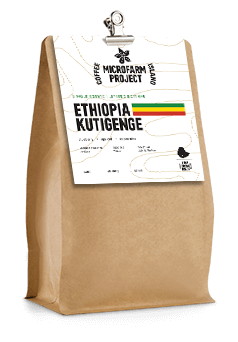 (new product)
Arabica Varietal: Heirloom
Name: Kutigenge
Country: Ethiopia
Attitude: 1,950 m.a.s.l.
Process: Natural
Roasting: Light to Medium

Cupping Notes
Blueberry, Apricot, Cacao Nibs

The Story
In their recent trip in Addis Ababa, our coffee experts' team had the chance to taste several coffees from Ethiopia, but distinguished the two most exquisite coffees produced from two small farmers in the Yirgacheffe region. Then they travelled to meet and get to know these two independent old farmers, Kutiyo and Tegenge -hence the name Kutigenge- who had both decided to grow independently their coffee at the back garden of their houses. Kutiyo and Tegenge share the vision of maximizing their production and improving the living conditions of their families. Their coffee in its entirity is of high quality, processed natural and offers a complex and intense aromatic profile.