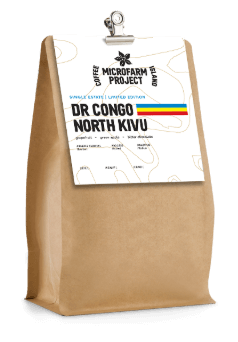 Arabica Varietal: Bourbon
Location: North Kivu
Country: Congo
Attitude: 1460-2000m
Process: Washed
Roasting: Medium

Cupping Notes
grapefruit • green apple • bitter chocolate

The Story

SOPACDI (Solidarite Paysanne pour la Promotion des Actions Cafe et Development Integral) is a cooperative having more than 5,600 farmer members, roughly 20 percent of whom are women, located near Lake Kivu in the Democratic Republic of Congo. Each farmer has a very small area of farmland for coffee growing (fewer than 2 hectares on average), and tenders cherries to SOPACDI through the organization's 10 collection subgroups. The cooperative was the first to achieve Fair Trade certification in Congo, and the coffee carries organic certification. Members of the cooperative represent several different ethnic groups, speaking Kirundi, Kinyarwanda, and Kihavu.